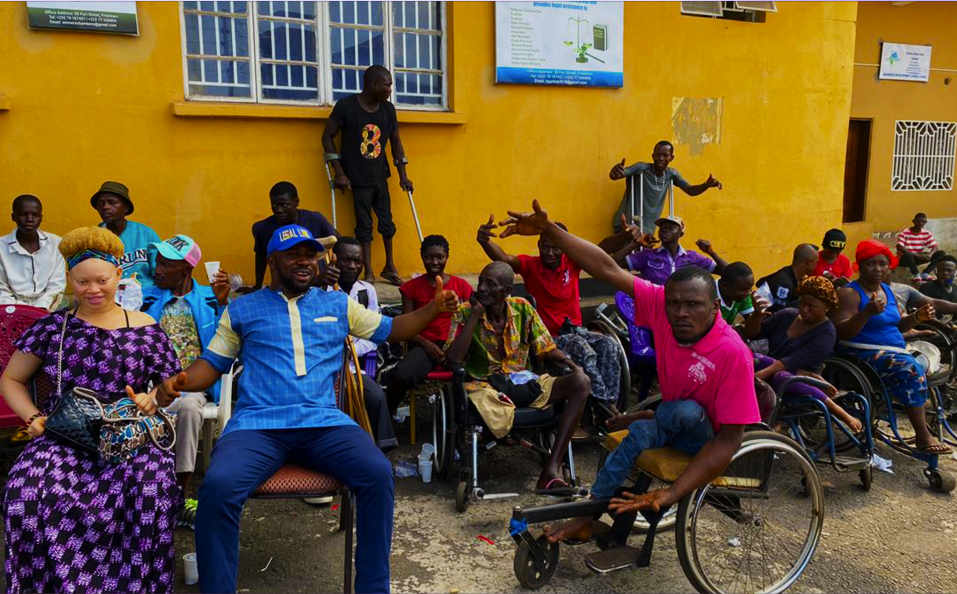 LEGAL LINK AND THE DISABILITY COMMUNITY IN SIERRA LEONE CELEBRATE THE INTERNATIONAL DAY OF PERSONS WITH DISABILITY
The annual observance of the International Day of Disabled Persons was proclaimed in 1992, by the United Nations General Assembly resolution 47/3. The theme for the 2021 International Day of Persons with Disabilities is: "Leadership and participation of persons with disabilities toward an inclusive, accessible and sustainable post-COVID-19 world."
The observance of the International Day of Persons With Disabilities aims to promote an understanding of disability issues and mobilize support for the dignity, rights and well-being of persons with disabilities. It also seeks to increase awareness of gains to be derived from the integration of persons with disabilities in every aspect of political, social, economic and cultural life.
The main programme organized by LEGAL LINK in observance of this year's International Day of Persons with Disabilities centred on access to health care, education, public buildings, employment and political space for persons with disability in Sierra Leone.
Significantly also, the discussions focused on the challenges faced by PWDs during the COVID-19 period and their means of survival in a post COVID-19 environment.
The representative from NACSA made a short statement with respect to the support of the Commission in providing for PWDs during the COVID-19 period in a bid to ameliorate their predicament situation.
Other dignitaries that made statements during the occasion were the representative of Don Bosco, the Executive Director of LEGAL LINK, the president of Sierra Leone Association of Persons with Albinism, a representative from the disability community to name but a few.
In addressing the plenary, Lawyer Rashid Dumbuya, Executive Director of LEGAL LINK thanked the government for signing and ratifying the United Nations Convention on the Rights of Persons With Disabilities and also for passing the Disability Act in 2011 and setting up a Commission to adequately address the needs and aspirations of PWDs at the domestic level.
THe however called on government to ensure that the provisions enshrined in the international, regional and domestic frameworks are fully implemented so that the rights of PWDs will be fully realized in the country. He further emphasized that government should focus particularly on access to education, healthcare, housing, employment and transportation for PWDs since so much discrimination and neglect exist in these sectors, adversely affecting the rights and welfare of PWDs.
The programme was climaxed by inputs from various disability groups, many of whom called on the government to increase support for and prioritize the needs of persons with disabilities in the country.
The celebrations ended up with refreshments and prayers in honour of the International Day of Persons With Disabilities. LEGAL LINK MEDIA
End