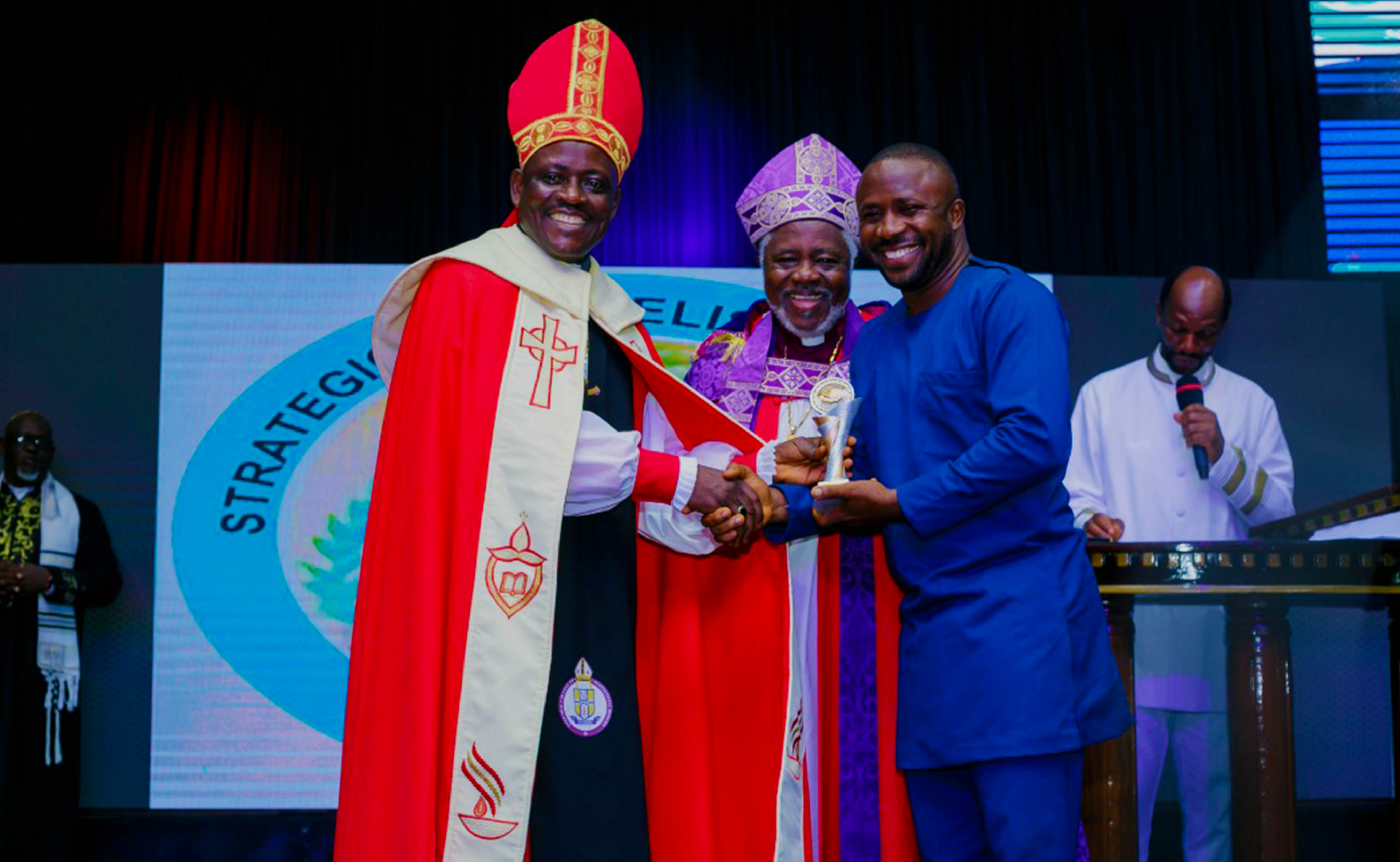 LAWYER RASHID DUMBUYA RECEIVES AN AWARD AS "ADVOCATE FOR THE FAITH" FROM THE RELIGIOUS COMMUNITY IN SIERRA LEONE
In a spectacular and epoch making ceremony held at the Flaming Bible Church on the 9th of May 2021 and attended by the Bishops, pastors and leaders of the Christian community in Sierra Leone, lawyer Rashid Dumbuya has been crowned as an "Advocate for the Faith".
While giving the award, the President for the Strategic Evangelistic Network (SEN) who also doubles as the first Pentecostal Bishop in Sierra Leone, Bishop Dr. Abu Frederick Koroma, congratulated Lawyer Rashid Dumbuya for the award and also for the good work he is doing for the religious community in Sierra Leone.
Bishop Mike Obot, who recently was called to the Sierra Leone Bar and happens to be the first legal Bishop in Sierra Leone symbolically handed over the prestigious award to lawyer Rashid Dumbuya with beaming smiles.
Several other awards were also given to other key personalities for their relentless and meritorious services rendered to the religious community in Sierra Leone.
But who is lawyer Rashid Dumbuya and how did he come to winning this prestigious award from the religious community?
Rashid Dumbuya is a lawyer by profession, a member of the Sierra Leone Bar Association, an Associate lecturer at the Department of Law, Fourah Bay College, University of Sierra Leone as well as an International Human Rights advocate and Public Defender.
He was a former Commissioner in the Human Rights Commission of Sierra Leone and currently serves as the Executive Director of Christian Lawyers Centre otherwise known as LEGAL LINK, an organization that defends the rights of religious communities and vulnerable groups in Sierra Leone.
Rashid holds a Bachelor of Arts Degree and a Bachelor of Laws Honours Degree from Fourah Bay College University of Sierra Leone as well as an LLM Degree in International Human Rights Law from the Centre for Human Rights, University of Pretoria, South Africa and an LLM Degree in Petroleum Law and Policy from the University of Dundee, Scotland, United Kingdom.
At his Christian Lawyers Centre (LEGAL LINK), established in 2018, Rashid, together with a dynamic team of legal luminaries, law students, human right activists and philanthropists are currently providing free legal services to the religious community and vulnerable groups in Sierra Leone.
In just two and half years of existence, Christian Lawyers Centre (LEGAL LINK) has not only become a household name but has also successfully represented and trained over 1,500 pastors on church registration and establishment, acquisition of land, estates and properties, labour and employment matters, church and court proceedings as well as other legal and compliance issues.
Today, through the legal support ensured by LEGAL LINK to the religious community, the lost dignity of religious organizations has now been restored. Religious organizations can now reached out to Christian Lawyers Centre when in conflict with the law or when in need of clarity or advise on the law.
Over 500 religious leaders ( Muslims and Christians) have directly benefitted from his legal aid support since 2018.
Remarkably also, during the closure of religious institutions in Sierra Leone as a result of the Coronavirus outbreak, it was Christian Lawyers Centre (LEGAL LINK) that vehemently advocated for its reopening and further undertook a comprehensive documentary survey on the impact of Covid 19 on religious communities in Sierra Leone.
Many vulnerable groups such as persons with disabilities, Amputees, war wounded, orphans, older persons, abused children and women are presently benefitting from the legal support and services provided by Christian Lawyers Centre ( LEGAL LINK).
Given all of the above, We at LEGAL LINK feel proud and honoured over this distinguished and prestigious award granted to our Executive Director by the religious community as "Advocate for the Faith".
We wish you all the best lawyer Rashid Dumbuya in your future endeavors. Continue the good work. The sky is your limit.