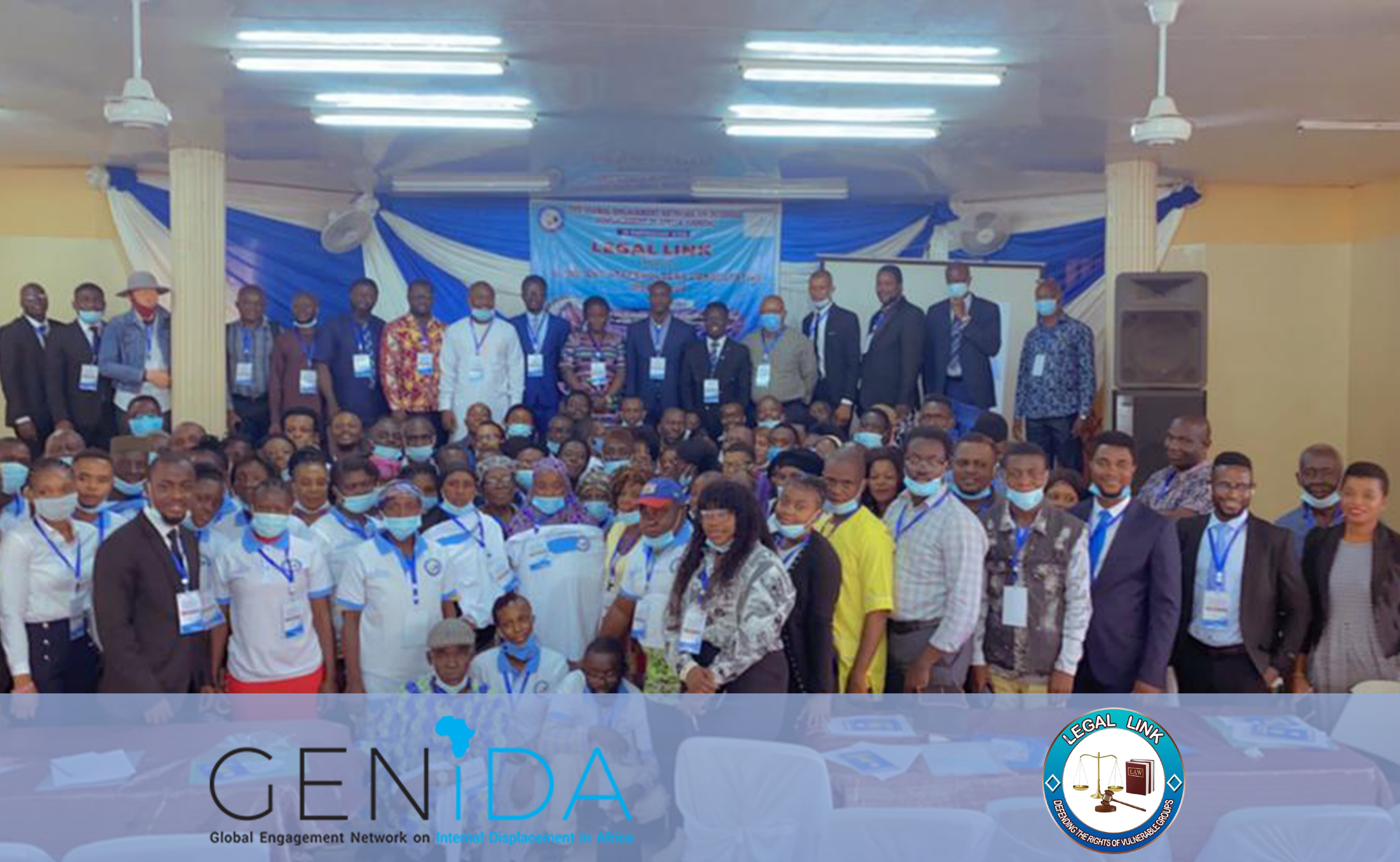 GENIDA IN PARTNERSHIP WITH LEGAL LINK AND OTHER STAKEHOLDERS HAVE DEVELOPED A DRAFT NATIONAL ACTION PLAN ON INTERNAL DISPLACEMENT FOR SIERRA LEONE
In a two day consultative Conference held on the 5th & 6th of May 2021 at the Buxton Hall in Freetown,the Global Engagement Network on Internal Displacements in Africa ( GENIDA) in partnership with LEGAL LINK and other relevant stakeholders have successfully developed a draft National Action Plan on Internal displacement for Sierra Leone.
It could be recalled that several natural and man-made disasters have occurred in Sierra Leone leading to huge number of Internal Displacements in the country. Such incidents include the Morthomeh Land slide, the Susans Bay fire accident, the Lumley and Falcon bridge flooding amongst others.
It is recorded that over 5,000 persons have been internally displaced as a result of these disasters.
The effect of Internal Displacements on vulnerable populations have been far and wide reaching. Women and children have been worst hit. Some have been left homeless, out of job or out of school and in a bid to fight for survival, some affected girls and women have even resorted into prostitution and drug sale business becoming a menace to the society.
While there are specific and comprehensive frameworks at the International and regional level to address the issue of Internal displacements, there's currently a gap in Sierra Leone in terms of special laws, policies and institutional frameworks to effectively deal with Internal displacements in the country.
Sierra Leone is a signatory to the UN Guiding Principles on Internal Displacements and has also signed and ratified the AU Convention on Internal Displacements otherwise known as the Kampala Convention.
Ironically however, it is yet to take steps to domestic the Kampala Convention within her jurisdiction.
It is against this backdrop that the 2 days consultative Conference was summoned to help Sierra Leone develop at the very least an Action Plan on Internal displacement, which hopefully will metamorphose into a law in the not- too- distant future.
About 200 participants took part in the consultative workshop on Internal displacement and gave salient contributions that led to the development of a draft National Action Plan.
Some of the key Representatives from MDAs that participated in the workshop include the Vice Chair and Executive Secretary of the Human Rights Commission of Sierra Leone, Representatives from ONS, NCD, EPA, Inter-Religious Council, the press, Civil society organizations, University students and affected victims.
The human expert and keynote speaker of the event was Dr Aderomola Adeola, who happens to be the Director of GENIDA and also an extraordinary lecturer at large from the Centre for Human Rights, University of Pretoria South Africa.
The workshop ended with the adoption of the draft National Action Plan and it was agreed that the Human Rights Commission of Sierra Leone take the lead in ensuring acceptability, compliance and implemention of the Action plan.
Certificates were also given to all attendees of the workshop.
End