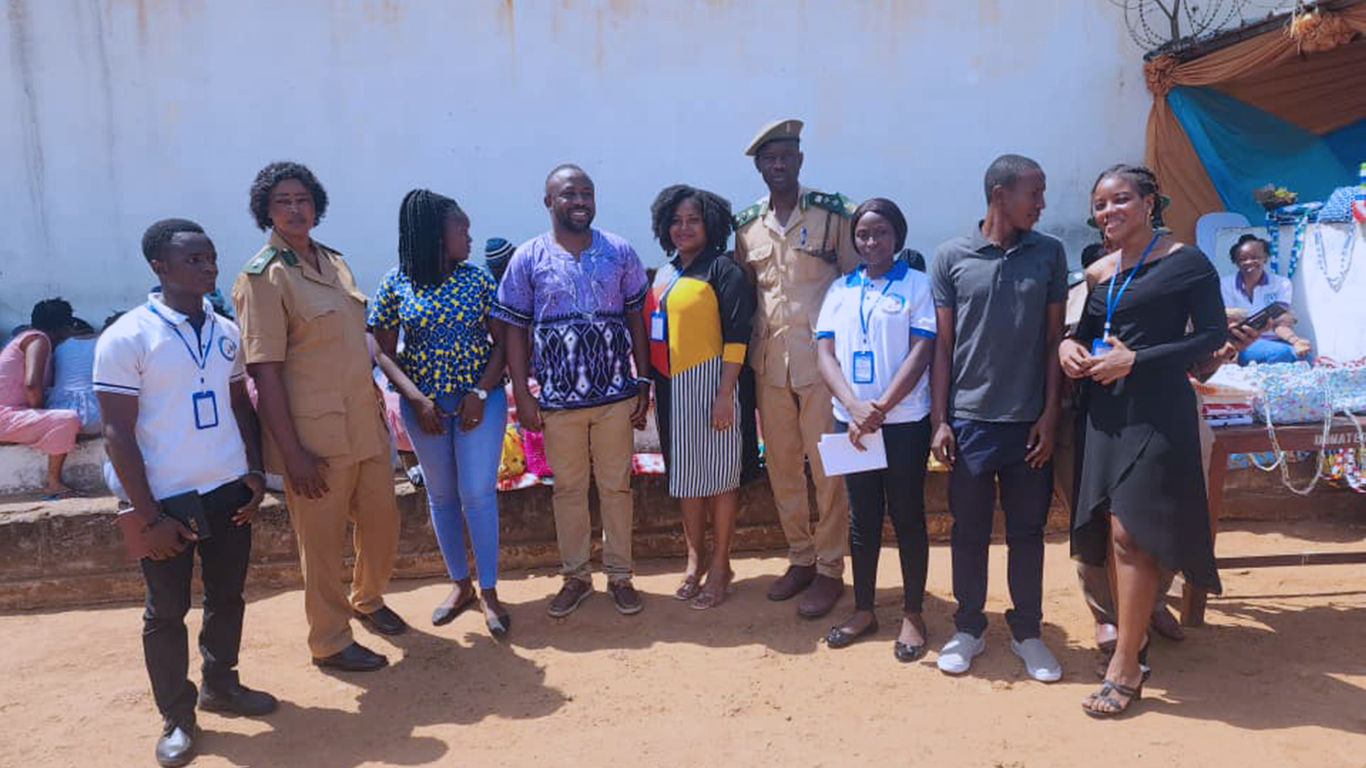 LEGAL LINK CELEBRATES INTERNATIONAL WOMEN'S DAY WITH INMATES AT THE FEMALE CORRECTIONAL CENTRE IN FREETOWN
Christian Lawyers Centre (hereinafter referred to as LEGAL LINK ) has on Wednesday, 8th March 2023, celebrated the International Women's Day by holding motivational talks with inmates at the Female Correctional Centre in Freetown and also making donations to them.
Some of the donated materials include sanitary pads, toiletries, deodorants, water buckets, slippers, toothpaste, toothbrush, bathing soap and clothes.
The auspicious program which took place inside the well-guarded facility, accorded the LEGAL LINK team the incredible opportunity to interface directly with the inmates.
At the start of the program, the female inmates heartily welcomed the LEGAL LINK visitors, with beautiful song renditions centered on hope and women empowerment.
Following this, the Director of Human Resources, SLCS, lifted the event curtain, with praise and acknowledgement of the outstanding humanitarian work of the Executive Director of LEGAL LINK, Rashid Dumbuya esq. Moreover, he expressed the institution's increased enthusiasm to work with the organisation in helping to address some of the key legal and human rights challenges being faced by inmates at the center.
According to him, over the last two years, the number of female prisoners have drastically increased from a maximum range of 20/30 to as high as over 100, some of them serving life sentences while some are on trial; and others merely remanded because of inability to fulfill bail conditions.Consequently, this has led to massive overcrowding of the prison facility, originally intended for about 50 female inmates
In his opening statement, Barrister Rashid Dumbuya embraced the opportunity to thank the Staff, Matrons and Officers at the Female Correctional facility (SLCS) for tending to the welfare of the good- looking inmates and also providing his organization the golden opportunity to engage and interact with them on International women's day.
The donation to the centre is part of my organisation's mandate to improve the welfare of vulnerable persons in society, including female prisoners, he said.
Mr. Dumbuya stated that the International Women's Day is a day set aside by the UN to celebrate women across the world and to further underscore their relevance within the global community of nations.
He emphasized to the female inmates that his organization had come to give them a short message of hope, especially in these challenging period of their lives and to donate hygienic materials to them, as a way of catering to some of their basic human needs while undergoing such predicament situations.
Furthermore, his recounting of the powerful life of Nelson Mandela who served as a prisoner in Robin Island for 27 years and subsequently becoming President of South Africa; sparked a strong emotional response from his rapt audience. According to Mr Dumbuya, "One girl with courage and determination is a revolution."
Additionally, he reaffirmed LEGAL LINK's commitment to defending the rights of female prisoners in Sierra Leone, stating that his team is willing to help with addressing some of their plights, whether through legal representation and also advocating for justice on their behalf especially for cases such as unlawful detention, delayed trials, miscarriage of justice, bail refusal, pecuniary fines and prison reforms.
In a bid to further inspire the inmates at the Correctional Facility, two ladies from the LEGAL LINK organisation, Mrs Joy Dumbuya, (a founding member of LEGAL LINK and wife of Barrister Dumbuya) and Sarafina Nicol-Sesay, a legal intern, shared empowering messages to the inmates bordering on hope for inevitable freedom, forgiveness, faith in God, repentance, and character reformation within and outside of their present restrictions.
Also worthy to note, was the amazing craftsmanship of some of the female inmates, who displayed beautiful, beaded-by-hand merchandise for sale such as bags, tissue holders, placement mats etc.
It could be recalled that Sierra Leone, in 2014 passed into law the Sierra Leone Correctional Service Act which has helped greatly in transforming the prison facilities into reform and correctional centres aimed at improving the livelihood of inmates rather than making them worse.
LEGAL LINK therefore commends these efforts towards the socio-economic empowerment of women prisoners by the GoSL, which it believes has helped to facilitate a means of livelihood for them as well as enabling them to still financially support their families while being incarcerated. Some few items were purchased from them by the LEGAL LINK team to help fulfill the above objective.
In conclusion, Anita Musa, a legal intern sealed the visitation with a powerful prayer for God's mercy, favor and miracle over all the lives of the inmates present.
The visitation officially ended with a brief tour of the medical facilities and a building under construction to provide a training ground for the inmates on tailoring, computer and other technical skills while in prison
LEGAL LINK commends these strides by the government and other philanthropists to make the facility a correctional centre indeed where inmates cannot only be kept but can also be empowered with relevant skills that will help transform their lives and create a brighter future for them upon their release.
Important to note however, is the under-furnished state of the facility's health care clinic, which currently lacks bed mattresses and which invariably poses a threat to the right to health and life of the female inmates.
Special thanks go to the entire management of the Female Correction centre and to all those who contributed in cash or in kind to making the visitation to the female Correctional Centre a great success.
May the good Lord reward your labour of love. In another development, the LEGAL LINK team made a quick stop at the Manaheim Orphanage Home in Grafton after receiving some food stuff items from a lady philanthropist in China by the name of Madam Faith through her brother, Khalil ( a law student) and sister, Ramatu who have always been supportive to the welfare of the disabled children at the orphanage.
May God bless them all for remembering the vulnerable. For more information about the visitation, Please see pics attached to this media update.
#END#
Rashid Dumbuya Esq Executive Director of LEGAL LINK and former Commissioner for Human Rights in Sierra Leone On behalf of the LEGAL LINK Team.
ALL RIGHTS RESERVED* Note: Some pics of Blacka and Rashid Dumbuya Esq, Executive Director of LEGAL LINK are shared with this update. ABOUT LEGAL LINK
Christian Lawyers Centre (a.k.a LEGAL LINK) is a non-profit legal advocacy group comprising of lawyers, law students and human right activists that seeks to provide legal assistance to religious communities as well as vulnerable groups in Sierra Leone through legal advocacy, education and training, public interest litigations, state and private sector accountability, enforcement of the rule of law and ensuring respect for domestic and international laws that guarantee fundamental human rights and freedoms.
For more information, contact us at: No. 89 Fort Street, Off Circular Road, Freetown, Sierra Leone, West Africa Email: rashiddum@yahoo.co.uk Tel: +23279167457 / +23288646294 Website: www.legallinksierraleone.org  
LEGAL LINK MEDIA
End