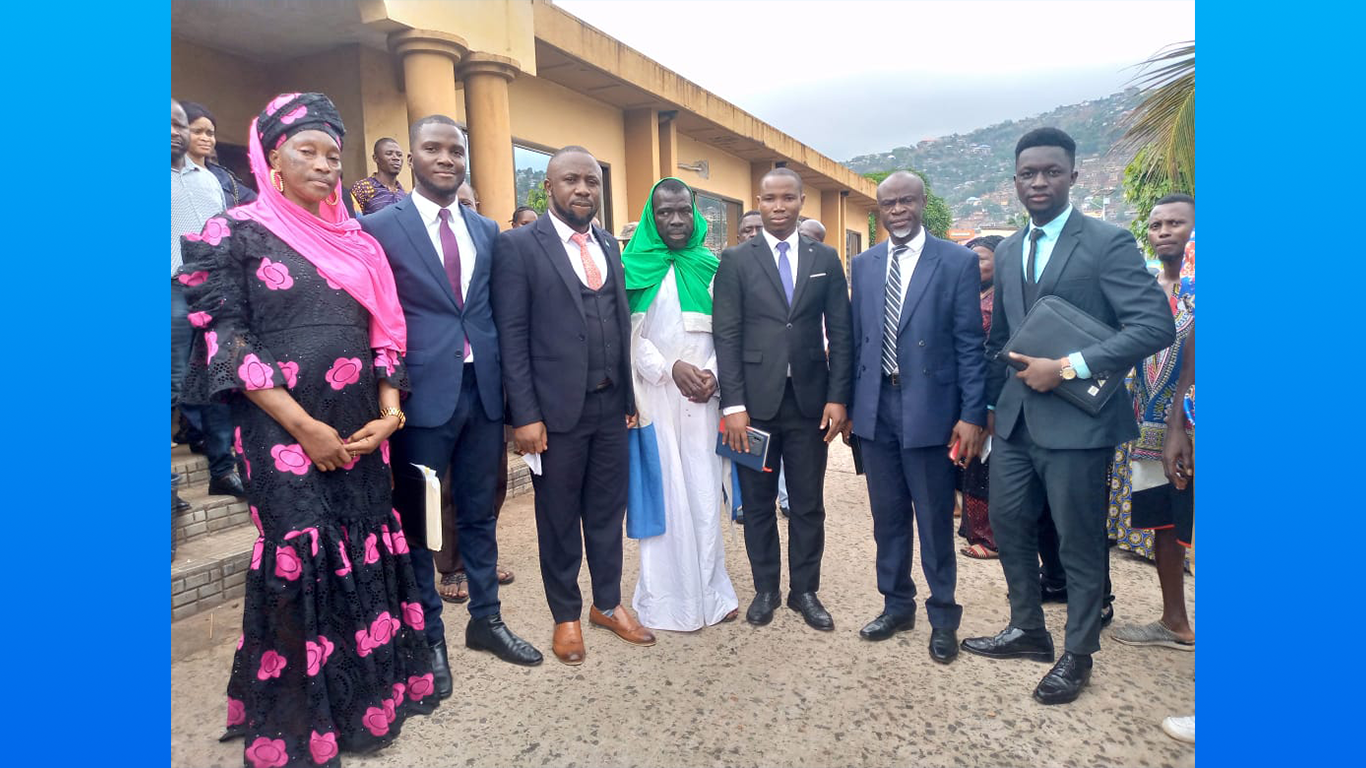 LEGAL LINK SECURES A DISCHARGE VERDICT FOR BLACKA, A MENTAL HEALTH PATIENT, WARNS THE PUBLIC TO STOP USING HIM AS A POLITICAL STOOGE AND URGES THE POLICE TO PROVIDE COMPENSATION AND MEDICAL SUPPORT TO HIM
Christian Lawyers Centre hereinafter referred to as LEGAL LINK is pleased to announce that it has today, Friday 13th of May 2022 secured a discharge verdict for Blacka at the Magistrate Court No 4, holden at Pa Demba Road Freetown, presided over by Magistrate Rashid Jalloh.
It could be recalled that Mohamed Mansaray ( alias Blacka) together with one business woman Kadiatu Yankaday were both charged with one count of Public insult and provocation contrary to section 2 of the Public Order Act of 1965. Arraigned before Magistrate Rashid Jalloh of Magistrate court No 4 Holden at Pa Demba Road Freetown, the police alleged in their Particulars of Offence, that on diverse dates between January 1 and April 23, 2022, in the presence of Mohamed Fofanah, the accused persons made insulting remarks against the President of the Republic of Sierra Leone, Dr Julius Maada Bio with intent to provoke him to commit a breach of the peace. Both accused pleaded not guilty to the offence. Lead Defence lawyer at the time, C. Pujeh Esq made an application for bail for Blacka on the grounds of him being a mental health patient. But notwithstanding this however, the Magistrate refused the application for bail for both accused persons and sent them on remand at the Pa Demba Road prison.
Following the outcry on social media over this malicious prosecution of a mental health patient by the state, the case was called up the following day with bail granted to Blacka ( mental health patient) and the other accused person charged alongside with him. As an organization that defends the rights of vulnerable groups in Sierra Leone, LEGAL LINK took interest in this case and decided to join the Defense lawyers with Rashid Dumbuya Esq, Executive Director of LEGAL LINK, taking over the matter as the lead defense lawyer for Blacka. In making his application for a discharge before the Magistrate Court in two of the court sittings, Lawyer Rashid Dumbuya opined that this case has no merits as the prosecution has not been able to lead any witness after taking about four adjournments in the matter.
He further averred that Blacka, being a mental health patient, had no business to have been charged by the police in the first place but rather kept in a mental home. He ended by letting the court know that the very fact that the prosecution has not been able to lead any witness after four adjournments is a testament that they are only here to persecute Blacka and not prosecute him. According to Rashid Dumbuya, Blacka's constitutional rights to fair trial as guaranteed under section 23 of the 1991 constitution and other international frameworks to which Sierra Leone is a party must be respected and upheld by the courts. In the given circumstance, lawyer Rashid Dumbuya appealed that the Magistrate discharged Blacka of the offence for which he stands charged for want of prosecution. Magistrate Rashid Jalloh upheld the application of lawyer Rashid Dumbuya and discharged Blacka as well as Kadiatu Yankaday accordingly.
In making his ruling, the Magistrate asserts that "no case can be determined against a man when no evidence has been proffered against him." He added that a discharge verdict is not a bar to further prosecution and that the police can always come back when they are well prepared to conduct their case.
Various lawyers apart from lawyer Rashid Dumbuya were also in court this morning to represent Blacka.
Chief amongst many of them were:
L.Dumbuya Esq
I.S.Y Kamara Esq
F.R. Conteh Esq
A. Mansaray Esq
A. R Thuray Esq
S.Bangura Esq
Special thanks to all of the above lawyers and
especially C. Pujeh Esq for being the first Defense lawyer to have represented Blacka in this matter.
Outside of the court building, lawyer Rashid Dumbuya did a short interview with the media in which he made a clarion call to the public to stop using Blacka as a political stooge and puppet, thereby putting him in arms way with state authorities and their die- hearted political supporters. He also made an urgent call on the police through the Inspector General to provide compensation to Blacka for the malicious, frivolous and vexatious proceedings instituted against him for which his fundamental human rights were violated in the process.
At a time when the issue of mental health rights has taken the centre stage within the United Nations and other regional integration frameworks, it is suicidal to say the least for such stories of torture and victimisation to be happening against mentally - illed patients in the country, Rashid opined.
But looking beyond the BLACKA incident, a legitimate question that comes to mind is: are their adequate, effective and robust laws, policies and institutions in Sierra Leone to protect the rights and welfare of mentally - illed patients like BLACKA? The answer is certainly a big NO. While a colonial Lunacy Act does exists, it is quite clear that such statute does not adequately address the needs of mental health patients in the country. The few institutions also established to take care of mental health patients are largely under- supported and constrained in terms of expertise to deal with the special needs of these patients.
Ironically however, Sierra Leone has signed up to many international and regional frameworks that guarantee mental health rights. Such treaties and conventions include the United Nations Declaration of Human Rights, the International Covenant on Civil and Political Rights, the International Covenant on Economic, Social and Cultural Rights, the United Nations Principles for the Protection of Persons with Mental illness and the improvement of Mental illness and Mental Healthcare and the African Charter on Human and People's Rights to name but a few. Therefore, to not adequately guarantee the rights of mental health patients at the domestic level would amount to a violation of international law.
In the locus classicus case of PUROHIT VS THE GAMBIA, a matter that was decided by the African Commission on Human and Peoples Rights concerning the inhumane treatment of mental health patients in the Gambia, the African Commission ruled that "the Gambian government has violated the African Charter on Human and Peoples Rights by her refusal and failure to have effective laws, policies and institutions in place to protect the rights and welfare of mentally - illed patients in the country." The significance of the above case at the African Continent has revealed that states in Africa including Sierra Leone are under a duty to ensure that the rights and welfare of mentally retarded persons are adequately addressed either through legislations and or care institutions and not neglected at will. Unfortunately in Sierra Leone, apart from the acute absence of legislations that comprehensively protect the rights of mentally- illed patients in the country, there are still a large number of mental health victims roaming about the streets of Freetown aimlessly, unattended to and uncared for.
Mental health legislation, policies and institutions are necessary for protecting the rights of people with mental disorders who are amongst the most vulnerable section of society. While we wholeheartedly condemn any attempt by anyone to show disrespect in whatever form to the office of the president, it should however be noted that in this exceptional situation, Blacka was merely a victim that was being exploited by wicked and unreasonable people for selfish gains. It is our candid view that if the police were to take any drastic action, such should have been done against these people for aiding and abetting the commissioning of the crime. It is certainly not Blacka that video himself when such uncomely words are being said by him. People do the video recording as well as the sharing which clearly constitutes an Offence under the Cyber Crime and Security Act of Sierra Leone. The police must therefore ensure to go after them and treat Blacka as a mere victim and a mental health patient that needs help.
In conclusion, given all the injustices that have been meted out against Blacka, a mental health patient in this entire criminal case, as a legal advocacy group that defends the rights of vulnerable persons in Sierra Leone, we call on the Sierra Leone Police, through the Inspector General of Police to provide adequate compensation to Blacka over the malicious and vexatious proceedings instituted against him. We strongly aver that where compensation is not paid, LEGAL LINK would explore the option of approaching the Supreme Court and/or the ECOWAS Court for appropriate redress.
END# Rashid Dumbuya Esq Executive Director of LEGAL LINK and former Commissioner for Human Rights in Sierra Leone
ALL RIGHTS RESERVED* Note: A short video and some pics taken after the court session are shared with this update. ABOUT LEGAL LINK
Christian Lawyers Centre (a.k.a LEGAL LINK) is a non-profit legal advocacy group comprising of lawyers, law students and human right activists that seeks to provide legal assistance to religious communities as well as vulnerable groups in Sierra Leone through legal advocacy, education and training, public interest litigations, state and private sector accountability, enforcement of the rule of law and ensuring respect for domestic and international laws that guarantee fundamental human rights and freedoms.
For more information, contact us at: No. 89 Fort Street, Off Circular Road, Freetown, Sierra Leone, West Africa Email: rashiddum@yahoo.co.uk Tel: +23279167457 / +23288646294 Website: www.legallinksierraleone.org  
LEGAL LINK MEDIA
End