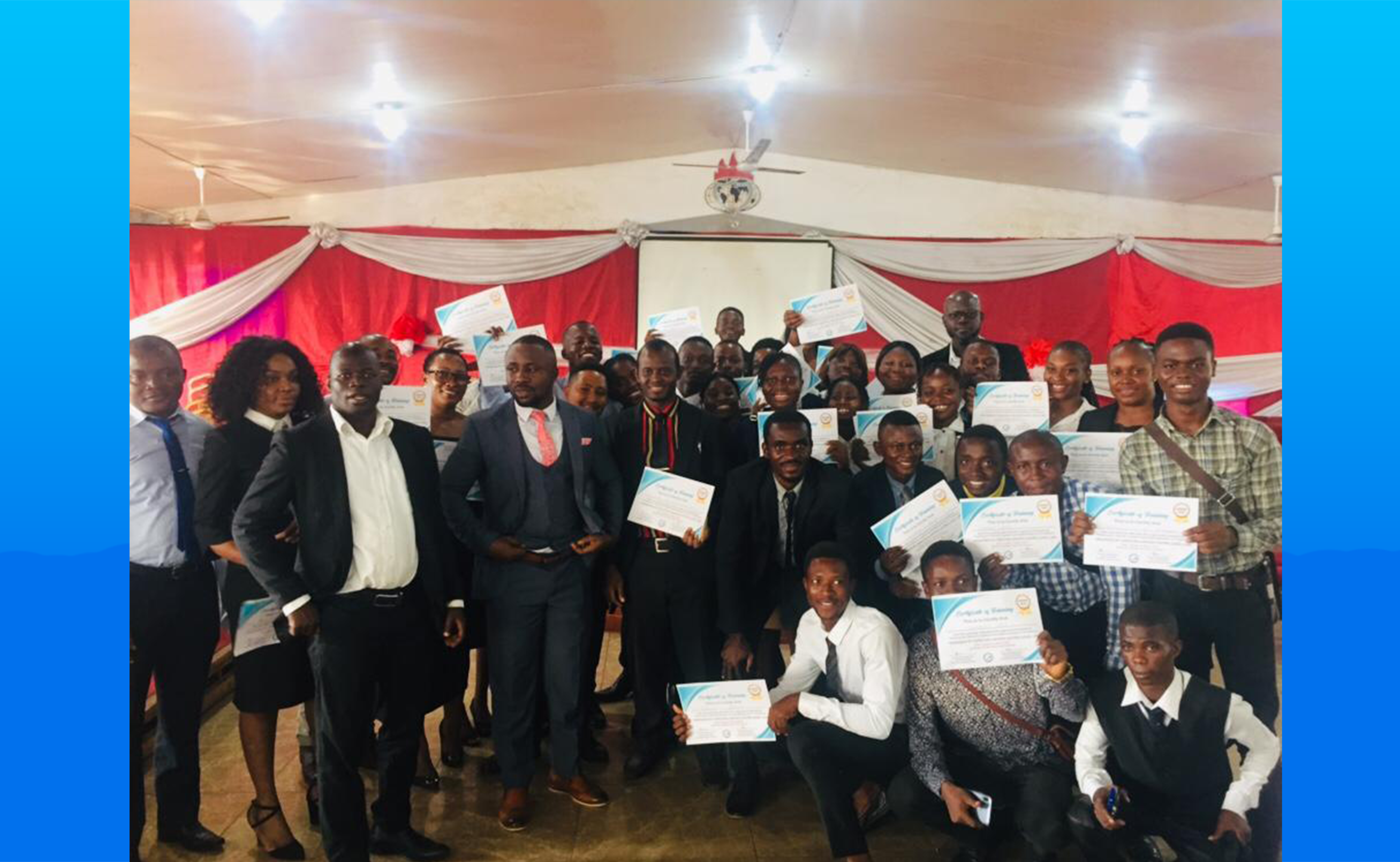 LEGAL LINK CONDUCTS TRAINING FOR 150 PASTORS, 2 BISHOPS AND 40 CHRISTIAN AND MUSLIM LAW STUDENTS ON LEGAL COMPLIANCE ISSUES AFFECTING RELIGIOUS INSTITUTIONS IN FREETOWN
Christian Lawyers Centre hereinafter refered to as LEGAL LINK is a nonprofit legal advocacy group that seeks to defend the rights of religious communities and vulnerable groups in Sierra Leone,.
In fulfilment of its education mandate, CHRISTIAN LAWYERS CENTRE has offered an opportunity to about 150 pastors, 40 Muslim and Christian law students and 2 Bishops to be trained on legal compliance issues in Freetown. The Legal and Compliance Course took place at the Winners Chapel Teens Hall on Tuesday 1st March 2022 at 10am. The legal compliance training was organized against the backdrop of the plethora of court cases currently handled by LEGAL LINK regarding religious institutions in Freetown.These cases bothered on non – registration of religious institutions, illegal acquisition of land, properties and real estates as well as the non – payment of salaries, Nassit contributions and end of service benefits to employees.
The rationale for this training is to help reduce the number of cases in court against religious leaders and their institutions and to further broaden their knowledge and horizon on certain legal matters ranging from the setting up of a church and its legal registration process, church acquisition of land, estate and properties, preparation of leases and tenancy agreements, marriage and divorce issues, the handling of labour and staff matters, Understanding NASSIT, Minimum wage and income tax laws and their legal consequences, church ethics, church versus local government and church versus court proceedings.
Speaking at the occasion, the Executive Director of LEGAL LINK, Rashid Dumbuya Esq, said that the legal compliance training has helped greatly in imparting knowledge to religious leaders in the country thus improving the administrative skills of these leaders within their respective religious institutions. Such state of affairs has led to a significant reduction of court cases against religious institutions in Freetown since last year. He therefore urged religious leaders to take advantage of these legal trainings as they are being conducted every year.
Since 2019, Mr Dumbuya revealed that over 2000 religious leaders have benefited from the legal and compliance training in Freetown. Five important modules were taught during the training.The first was on understanding church registration process and the legal issues involved;
the second was on church acquisition of properties - the place of conveyance, lease agreements, tenancy agreements, deed of gifts, Wills and Letters of Administration.
third module was about understanding the legal issues surrounding Marriage and Divorce;
the fourth was about Church handling of labour and staff employment matters- understanding the Minimum wage law, Nassit Act and the Income tax Act while the fifth module was about Church versus court proceedings.
The Executive Director of LEGAL LINK, Mr. Rashid Dumbuya Esq who also doubles as a lecturer in the Faculty of Law, University of Sierra Leone, Fourah Bay college, delivered all the modules with the help of Barrister Micheal Dumbuya, a legal volunteer at LEGAL LINK. Muslim and Christian law students for the first time also participated in the training. The aim is to equip these law students with knowledge so that they can be legal advocates in their churches and mosques, helping out with legal research, advisory opinions and legal compliance issues within their respective religious institutions.
The training was done through power point presentations and participants took notes on the various topics that were being discussed by Rashid Dumbuya Esq and Michael Dumbuya Esq. Testimonies from religious leaders about the legal challenges being encountered in court by various religious institutions regarding land acquisition, non-registration and wrong handling of employment matters captivated the audience and made the training of immense significance. Several participants that took part in the programme commended LEGAL LINK for coming up with such a timely training for religious leaders in Freetown where land conflicts have become a great challenge for religious institutions. They encouraged and called on LEGAL LINK to roll out similar trainings in the provinces so that pastors and imams living in the provinces can benefit also from this all important training.
The training ended at 5pm with prayers for members of LEGAL LINK and all attendees by the National Pastor of Winners Chapel, Pastor David Kareem. Bishop Konoyima, on behalf of Christian Lawyers Centre distributed the certificates to all participants of the programme. The vote of thanks was given by Mr Wilson, one of the participants of the training.
The Executive Director of LEGAL LINK ended the program by thanking the senior pastor and members of the Winners Chapel church for hosting the programme and also the organizing committee of LEGAL LINK for their sacrifice in putting modalities in place for a successful outcome of the conference. Rashid also thanked BBN, pastor Mambu and Bishop Abu Koroma for allowing their media stations to be used to advertise the program and further emphasized that such trainings will be replicated to other regions in Sierra Leone this year. End
For more about the training, see pics attached to this update. LEGAL LINK MEDIA
LEGAL LINK MEDIA
End