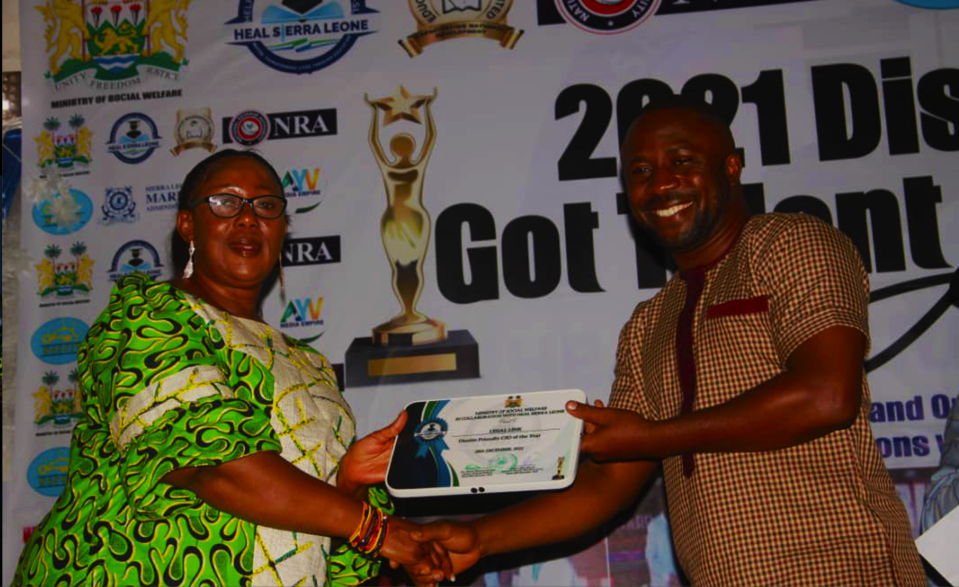 LEGAL LINK CROWNED AS THE DISABLE- FRIENDLY CSO OF THE YEAR 2021
Crowning LEGAL LINK as the most Disable - friendly civil society organization of the year 2021 and receiving that award from no less a person but the Minister of Social Welfare, Mrs Baindu Dassama Kamara speak volumes. It can only be the doing of the Lord. To Him alone be all the praise and glory.
Surely, it's the dawning of a new day for the Disability Community in Sierra Leone and we are grateful that the government took notice of our little contributions towards the wellbeing of the Disability Community in the country.
The Disability got talent Award program rocks! Thanks to the Ministry of Social Welfare and Heal Salone for putting it together. We are grateful.
Even though LEGAL LINK won the award this year, we however dedicate it to all human rights activists, philanthropists, donors, MDA's and civil society organizations in Sierra Leone that are working behind the scenes in improving the lives and livelihoods of persons with disabilities in the country. We are all in this together. God richly bless you all.
LEGAL LINK MEDIA
End